Help patients manage their out-of-pocket costs with healthcare lending.
The iVitaFi non-recourse financing solution* benefits both patients and providers. Patients of all credit profiles can apply for our 0% interest line of credit to fund the patient portion of their healthcare needs. You have the assurance of prompt payment for every patient who participates in the iVitaFi program. With iVitaFi's healthcare lending program, providers can focus on their performance and increase patient satisfaction.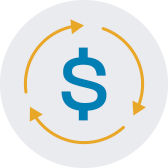 Increase your net patient collections and accelerate cash flow using iVitaFi's non-recourse patient loan program.
Improve the patient experience with a hassle free, 0% interest, affordable line of credit. Our healthcare lending program allows patients to focus on their health rather than how they are going to pay for their visit.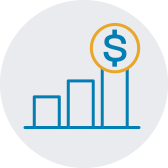 Quit worrying about patient collections. Should the patient miss a payment, that's our problem, not yours.
The program quickly generates benefits to your organization. Patients usually rely on their insurance company to help with payments, which can end in denials, underpayments, and lost or ignored claims. This results in cash flow problems for your medical practice. With healthcare lending programs, you'll quickly see a return as all funds from the line of credit toward the patient's out-of-pocket costs are paid directly to you. The program also takes care of patient collections, reducing the risk of collection and bad debt.
Patients can
use their line of credit any time and

pay their costs back over time

, making it very convenient and simple. They

get the care they need with affordable repayment options at no added cost for a complete physical and financial patient wellness offering.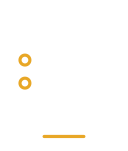 Benefits to Providers
Significantly improve patient collections and reduce cost to collect
Reduce bad debt on patient receivables
Help your patients manage unexpected out-of-pocket costs
Improve patient satisfaction
Reduce patient leakage with a reusable line of credit at the guarantor level
Non-recourse patient financing means you'll never have to worry about defaults
* Program terms and conditions apply.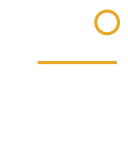 Features of the Healthcare Line of Credit
0% interest, no fees, up to 36 months
Available to all credit profiles*
Convenient customer portal for 24/7 digital account access
Guarantor-level line of credit is reusable and available to the whole family
Hospital fully funded right away for each account
* Program terms and conditions apply.
Implement a Non-Recourse Lending Strategy Today
Help your patients pay their medical bills so you can focus on providing care.
Hospitals can go live in as fast as 5 weeks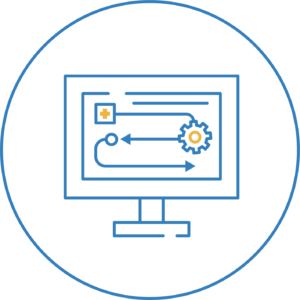 Needs minimal IT implementation resources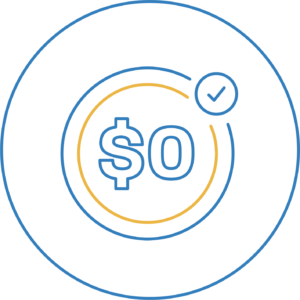 No implementation
fees
Easy to implement, easy to use
We work with you to customize how the lending program works for your hospital. Our onboarding process is straightforward, and hospital staff find our all-digital loan origination and approval process easy to use.
Simple workflow
Our healthcare line of credit program is delivered by the hospital to a patient in a matter of minutes:
Presentation: Hospital staff present the 0% line of credit as a payment option at any point of service.*
Pre-Approval: Hospital staff walk the patient through the all-digital, seamless application. The experience takes just minutes.
Origination: Once approved, the line of credit is immediately processed and available for use.
Funding: Once services have been rendered, the line of credit is automatically debited, and the provider receives the funds. Patients can use the line of credit for their family or for other balances with the hospital, and payments are based on what they can afford, not on what they owe.
* Terms and conditions apply.
It's that easy. Hospital staff need just a few minutes to discuss the program with patients, and once approved, patients can create an account online in in less than 5 minutes – even via their phone.
Offered at all points of service
The lending program can be offered at any point in the revenue cycle when you discuss out-of-pocket payments with your patients. Our digital solution integrates with existing workflows at pre-registration, point of service, the emergency room and post-billing.
Visit the links below to learn more about how the program works at each point of service.
We help your patients gain financial wellness while you deliver quality care.
Contact iVitaFi today to discuss healthcare lending options for your patient population, or to request a financial analysis identifying the financial improvements that can be gained with a non-recourse lending program.
Help patients pay their hospital bill with a reusable line of credit.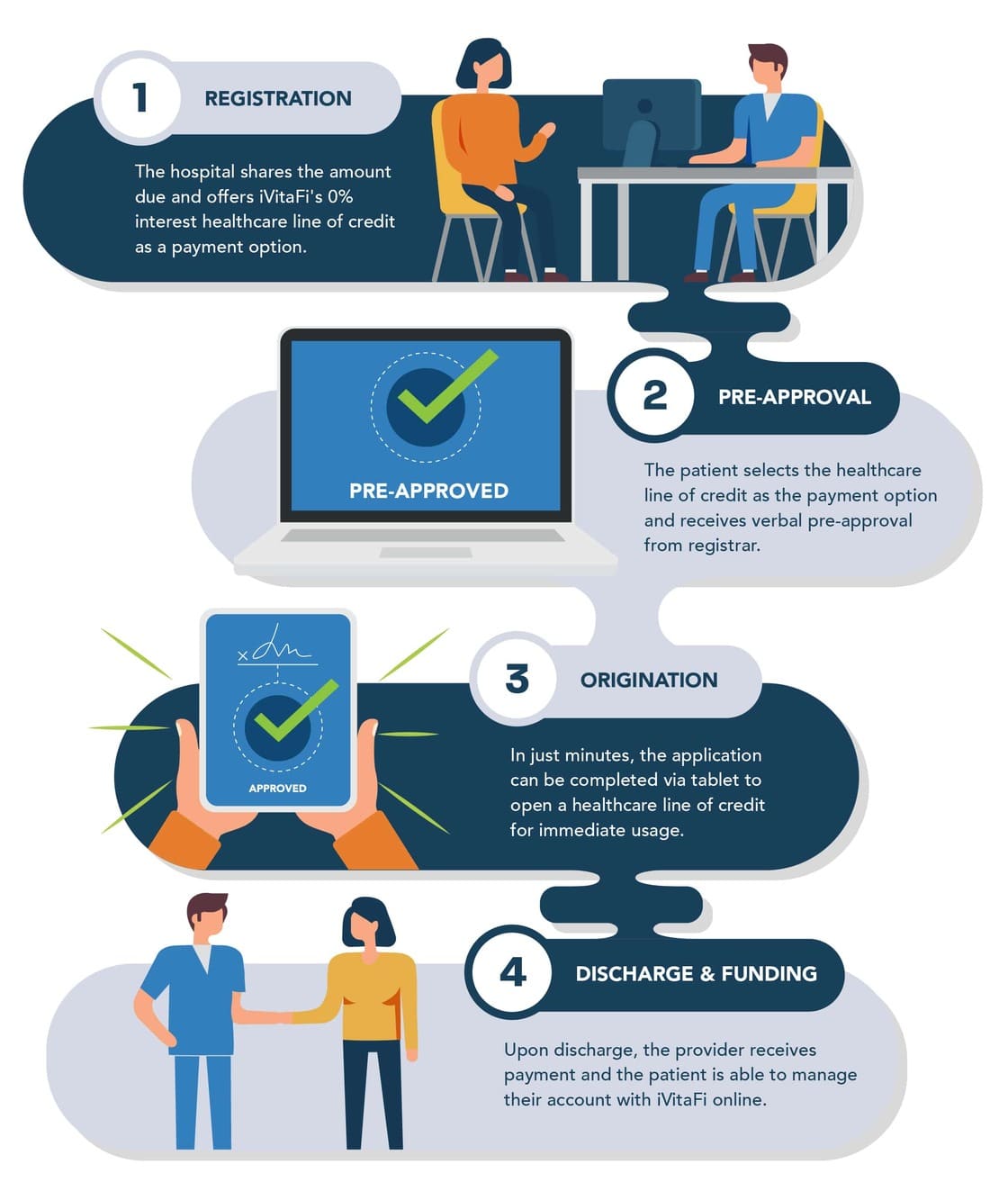 Find out how you can collect more faster and increase patient loyalty
Do you have questions or want to learn more? We'd love to talk to you about your challenges and opportunities surrounding patient financing and payments. Fill out the form below and we'll be in touch shortly.
Email
info@ivitafinancial.com
Address
101 Marietta Street NW
Suite 2310
Atlanta, GA 30303